ATTENTION!!!


Please help and sign this petition HERE against a gas powerplant in Nuweiba!

Lets have a look !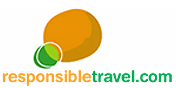 "SinaiStars"
with ResponsibleTravel



Jumaa and Camp Eden"
in "The National Newspaper"
BedouinCamps in Mahash

(Sinai, Egypt)
Maybe you already know about Sinai, the big hotels in Sharm and Taba.
But do you know that the Bedouins run wonderful eco-friendly beach camps for more than 20 years that are not comparable with mass tourism accommodation?
Singles, families, artists, globetrotter and all curious ones
let us give you the lift to Sinai !



1 week


palmhusha directly on the beach
incl. HB from 199,- €(~179 GBP) !
incl. FB from 229,- €(~206 GBP) !
Have a look on our prices !


Please consider that the flight is not included!! Book your flight here or ask us for the daily offers!



Family friendly fares
See our children discounts


Thats your journey with SinaiStars

If you got inspired send us your request by mail or phone us. Send us all necessary data: Number of persons, food desire, date. Usually we answer your inquiry on the same day.
We will give you a reservation, for you still noncommittal, so you can book your flight or assign this to us.

After transmission of your flight details we fix the reservation and organize your airport transfer, if desired. You pay a part of the travel sum as pre-payment, the other part after you arrived.

Now you can relax and dedicate to your personal travel preparations! Vaccinations are not prescribed, your visa you get with the entry at the airport. In front of the airport your driver waits to bring you to Mahash.

After an interesting 2hour drive you arrive in your Beach Camp.The bedouins will welcome you with their special hospitality, have some tea or coffee and then move into your husha on the beach. You eat your first wonderful meal , maybe fresh fish or calamari? and then ...

Either you spend a pure beach vacation with swimming,snorkling and maybe kiting or diving.
Or do you want to experience a trip into the desert, to Mount Moses and many other places?
No problem, you can plan all this spontaneously in the Camp, if you didnt book a trip before.

Hope to see you soon in Sinai !
Welcome to SinaiStars !

We show you a little paradise here. A clear blue sea, sun, beach and corals. And around us the desert....Let us give you the lift !

Holiday in sight ...


"Honeymoon" for
2

People

14 Days palm husha on the beach
incl. HB and Taxi for 850,- € !!!
=425,- €/person

Book your flight here


Sinai - All you can see !!
Beach-/Desert-Combi 7 or 14 days

7 days
(5days jeep & beach): from 599,-€

14 days
(5days jeep& 3days camel & beach): from 899,-€

Book your flight here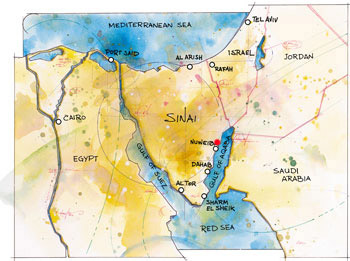 Here is your place to relax and have adventure
between a beautiful coral beach and a magic desert!

Because less is often more !

Mahash is situated between Nuweiba and Taba,
shown on the map as a red spot.



Read or write a Feedback for SinaiStars !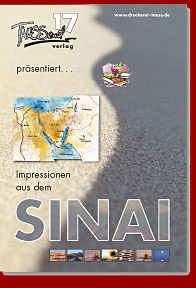 "Impressions
from SINAI"

Bookys journey
with
Bedouin stories
"Also in English"

Cosmic-Highway!
Erichs Meteorites und Minerals